9 top reasons to start your own website, regardless of your profession!
You just gave that interview and you are not sure if you will get through?
You just came out of that business meeting and you feel you could have done it better?
Let's be honest, a 5-minute interview is not enough to judge a person if he/she would be fit for the role or not.
So, Why wait for them to decide?
You can let them know about you even before you have appeared for the interview/meeting.
How?
That's exactly what we will talk about, here in this post.
I will share 9 top reasons to start your own website, regardless of your profession, and how it will help you grow in your career.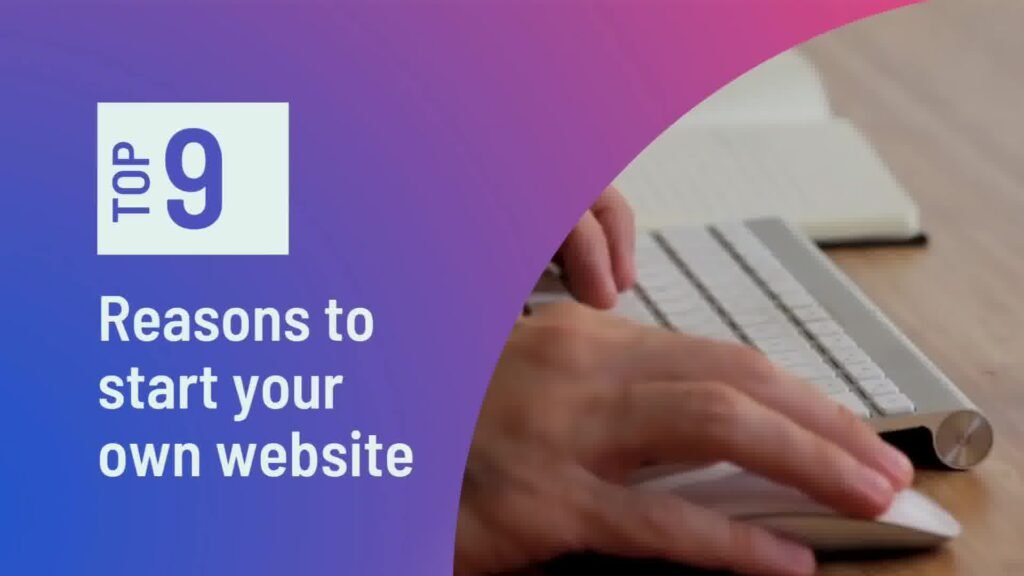 1. Use it as your Journal
You can use your website as your personal journal.
You can write about your day-to-day activities, your to-do list, goals, plans, etc.
Furthermore, you can write about your learnings and share your journey with others to create a community of like-minded people and grow together.
Ankur warikoo used to use his website as a journal really well. Check here: Ankur Warikoo's Blog
2. Express your Thoughts
The best way to use your website is to express your thoughts. You can post things you believe in.
You could use your personal website as an extension of yourself. You can post things about your area of expertise, establishing yourself as an expert.
It could help you become a consultant or a mentor in the future.
Deepak Kanakraju did it really well. Check his site here: digitaldeepak.com
3. Use it as your resume
Everything is going digital, why not your resume too?
The best use of your personal website could be as your resume.
You can write about your educational background and your professional journey so far.
You can write about the things you like doing, are good at and any new learnings you come across.
This way, when someone is searching to find experts in your specialization, you will show top results.
This could potentially bring you new opportunities, a new internship, a new job, a new freelancing gig, and many more.
You can even create a landing page on your website and run ads to bag high-quality clients for your freelance hustle.
4. Write case studies from the project/work you do and talk about the results you created
While you are a student or a working professional, you must have done many projects or different kinds of work.
So, you can write about those projects and the results you created as well as you can write down your learnings from those projects.
You can also write about the friends or networks you build through those projects or work and what are those people doing now, making a community of people who trust you.
It could be a great story to write about your projects and this will help build trust in you when someone visits your website.
You can use your website as a replacement for social media.
The problem with social media is that they own your data, your behavior, your followers.
They can delete/block your account anytime they want, but your own website is something you own.
It's like a property, but on the internet.
"While social media is a rented house, your website is your own sweet home."

Rahul Singh
6. Review the products you use
You can also review the products you use on a day-to-day basis.
You can review the books you read and inspire people to buy those books or products using your affiliate link.
It will create a passive income stream for you.
7. Create a niche site
You can create a niche site focusing on a particular topic, helping people solve problems to that particular topic, and building authority in that.
You can monetize it through affiliate marketing and turn it into a full-fledged affiliate website and earn passive income.
8. Build skills
While you will be creating your own website, you will learn many skills on the way.
You will learn-
Writing – you will become a better writer with time.
You will learn about yourself. Writing could serve as a meditation for many people. You will learn how to organize your thoughts and put them down on paper. This will eventually improve your communication skills.
You will understand the design, color psychology while creating your website as you will create many graphics, photos, designs, templates, etc.
You will learn how to read, understand, analyze data. You will learn how to draw a story out of numbers which is a great skill to have.
You will learn about human behavior, and how people are interacting with your website.
You will learn time management. As you will be working on your website as a side hustle, you will learn how to manage time better.
And many more. . .
These skills will boost your confidence and help you grow as an individual as well as on the professional front.
9. Creating your own future (literally)
When you do all this, you are being our own personal media house, you are being your own PR agency, you are your own personal marketing head.
You can write your story the way you want the world to know.
It's like your online address where people can come, see and know about you.
Your website will land you your dream job.
It will help you start your business.
It will help you grow your business.
It will help you with your freelancing career.
Creating a website of your own is like creating your own future (quite literally).
Of course, all of it will not happen overnight. It will be a slow and steady journey.
So, let's start the journey of your lifelong learning with me.
PS: If you wish to know how you can create your first website, comment down below, I will help you.
Cheers,
Rahul Singh